Henness Pass was the most popular Sierra pass before the transcontinental railroad was finished. It offered the lowest elevation and shortest distance to get over the mountains from California to Nevada. For 10 years or so, it was a toll road that thousands of people and almost all cargo went through.
You can still drive it today. It cuts through some beautiful and rugged terrain, mostly in Sierra County, California. A good chunk of it is paved (from Highway 89 to Jackson Meadows) but it is mostly forest road. Information about it is scarce. I found an old pamphlet about it and scanned it. I'm posting it here in case it might be of any use to others.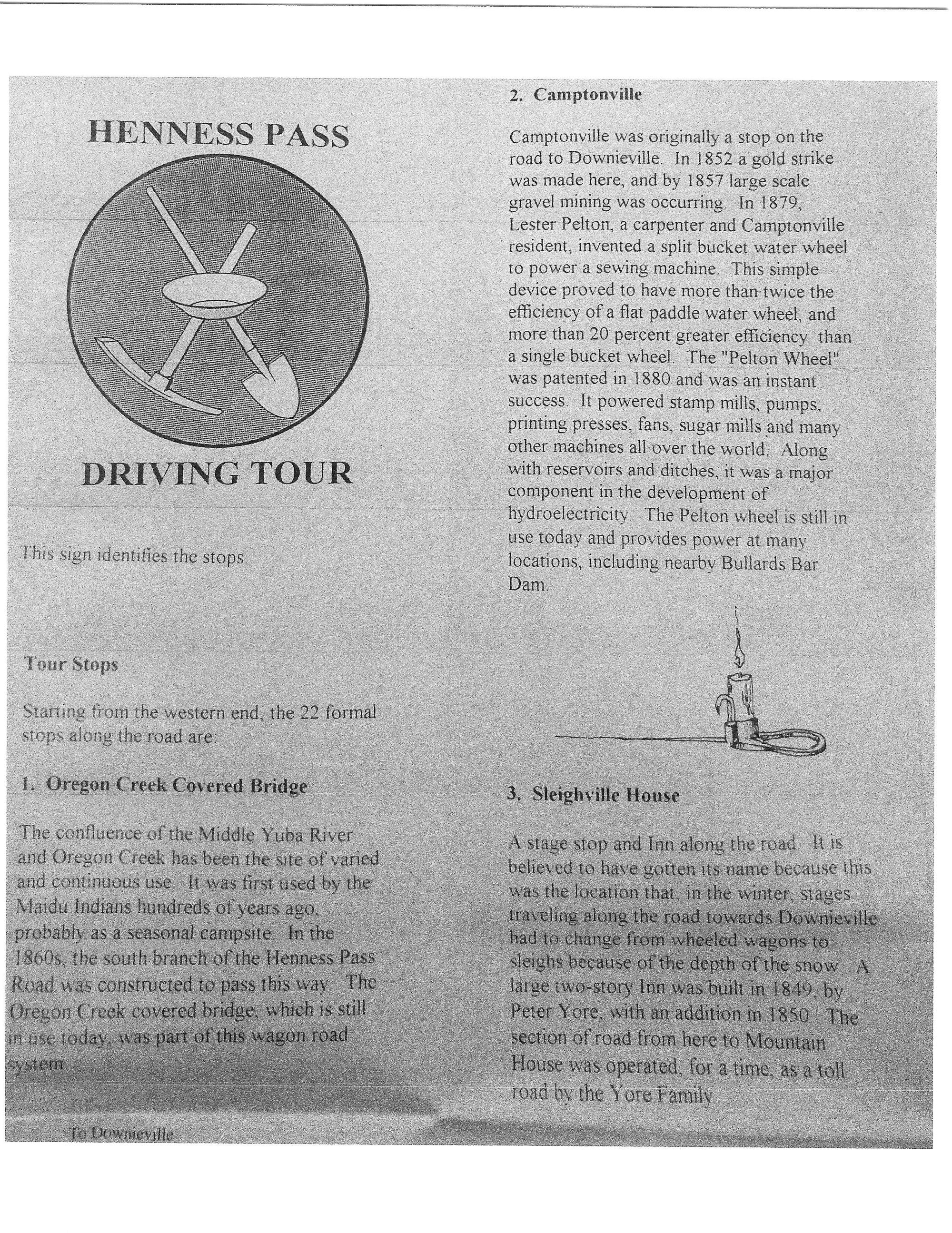 HENNESS PASS DRIVING TOUR

Camptonville
Camptonville was originally a a stop on the road to Downieville. In 1852 a gold strike was made here, and by 1857 large scale gravel mining was occurring. In 1879. Lester Pelton- a carpenter and Camptonville resident, invented a split bucket water whee lto power a sewing machine. This simple device proved to have more than twice the efficiency of a flat paddle water wheel, and 20% greater efficiency than a single bucket wheel. The Pelton Wheel was patented in 1880 and was an instant success. It powered stamp mills, pumps, printing presses, fans, sugar mills and many other machines all over the world.  The Pelton Wheel is still in use today and provides power at many locations, including Bullards Bar Dam.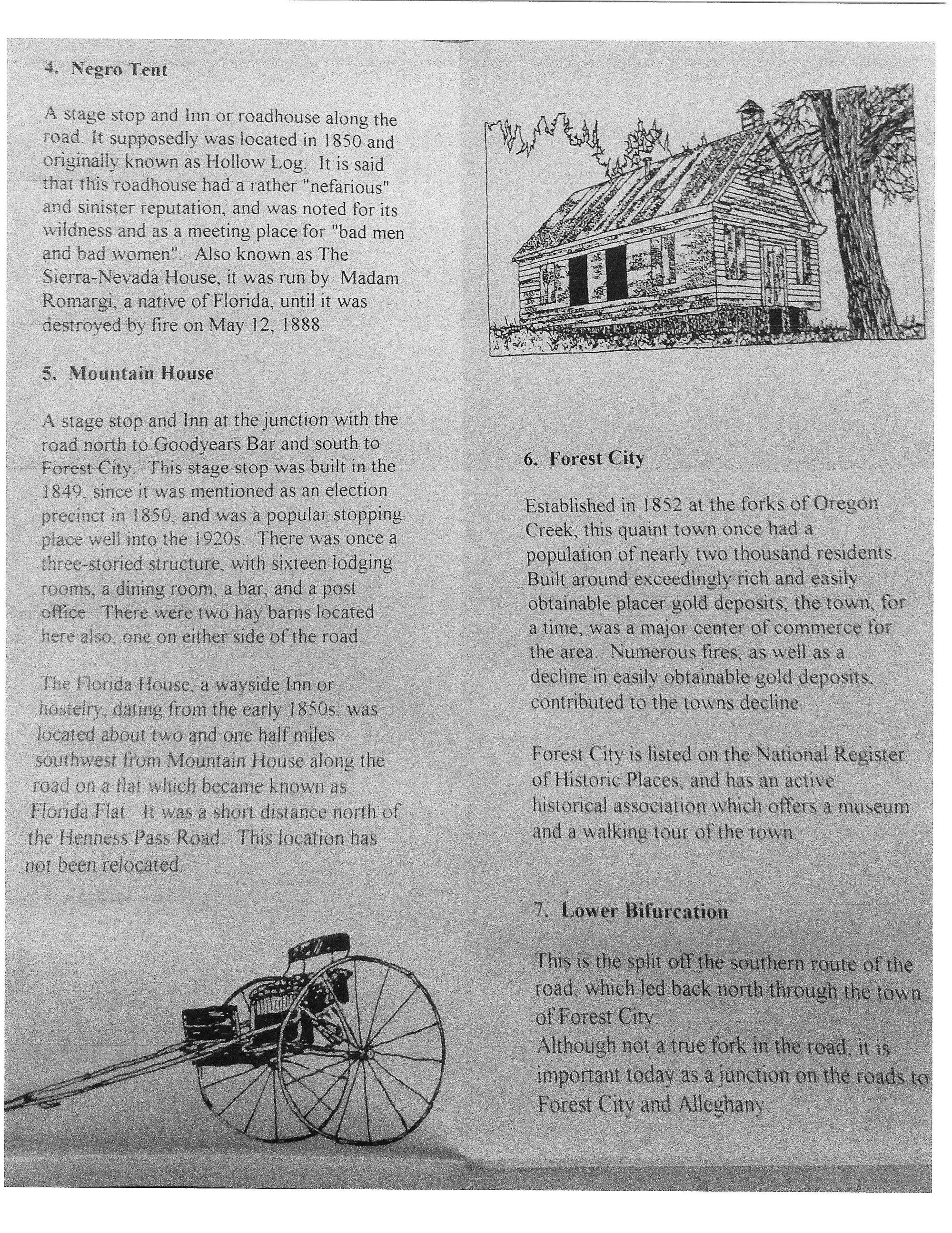 Negro Tent
A stage stop and Inn or roadhouse along the road. It supposedly was located in 1850 and originally was known as Hollow Log. It is said that this roadhouse had a rather "nefarious" and sinister reputation, and was noted for its wildness and as a meeting place for "bad men and bad women". Also known as The Sierra Nevada House, it was run by a Madam Romargi, a native of Florida, until it was destroyed by fire on May 12, 1888.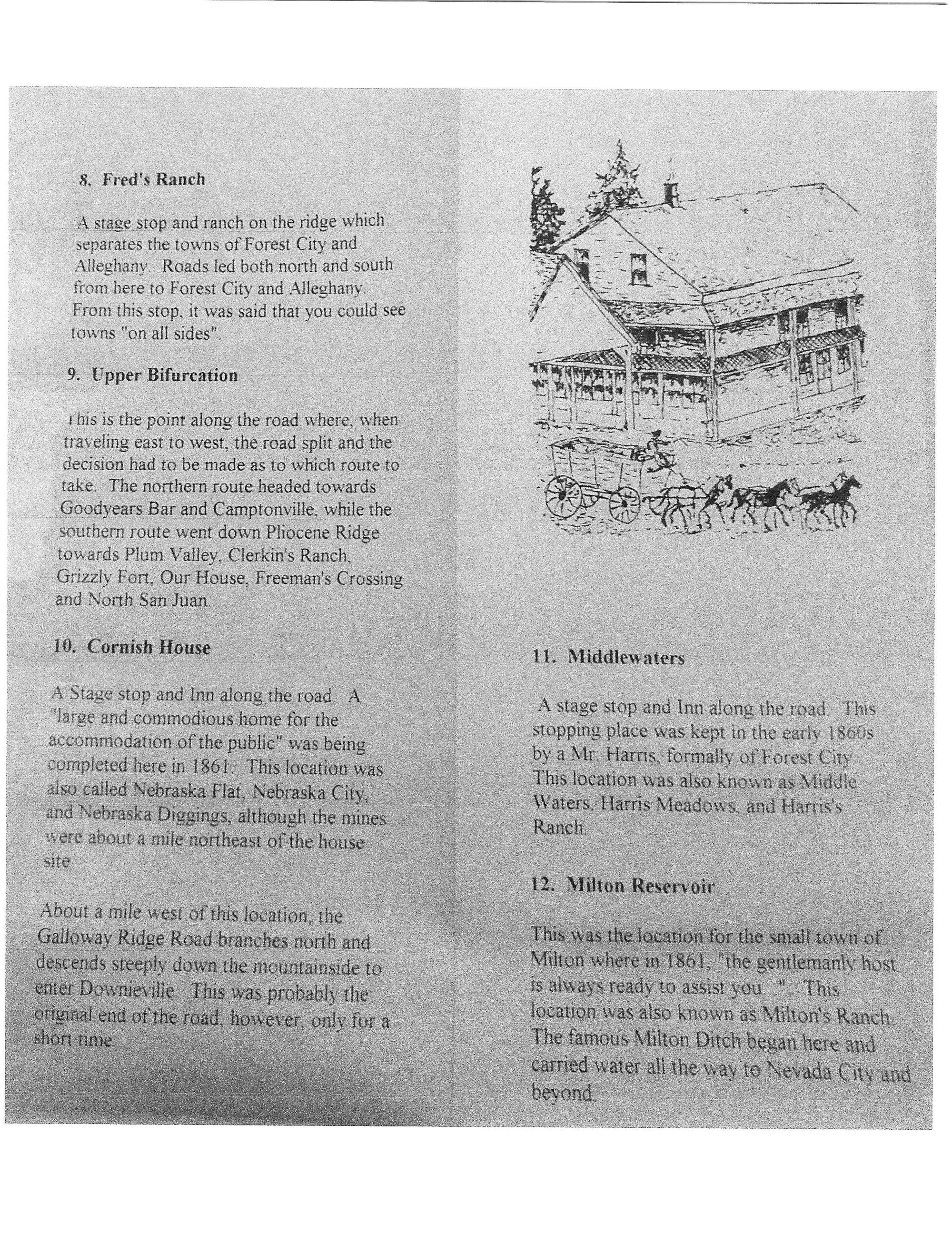 Fred's Ranch

A stage stop and ranch on the ridge which separates the towns  of Forest City and Alleghany. Roads led both north and south from here to Forest City and Alleghany. From this stop, it was said that you could see towns "'on all sides".
Upper Bifurcation

This is the point along the road where when traveling east to west, the road split and the decision had to be made as to which route to
take. The northern route headed towards Goodyears Bar and  Camptonville, while the southern route went down Pliocene Ridge towards Plum Valleys Clerkin's Ranch, Grizzly Fort, Our House,  Freeman's Crossing and North San Juan.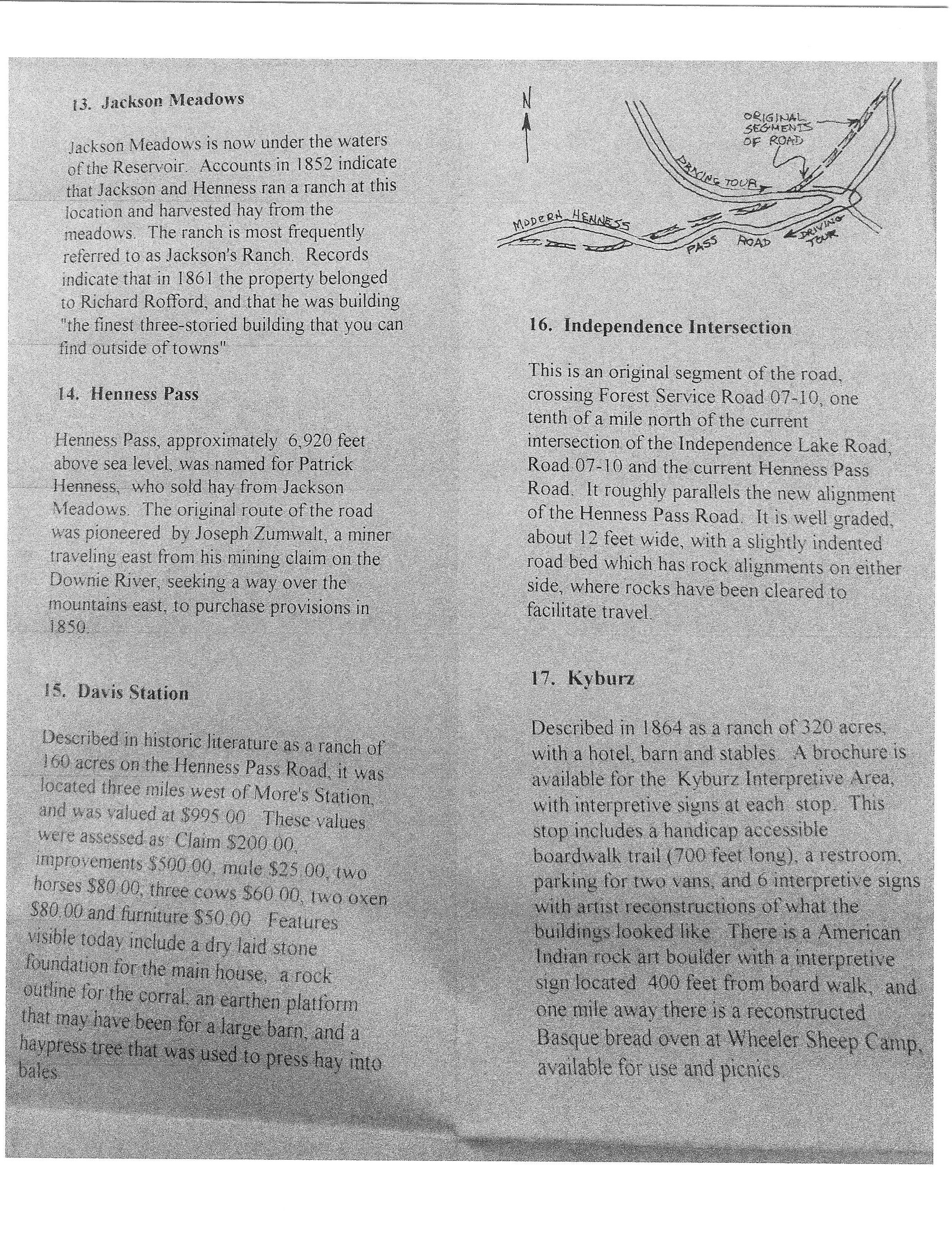 Jackson Meadows
Jackson Meadows is now under the waters of the reservoir. Accounts in 1852 indicate Jackson and Henness  ran a ranch at this location and harvested bay from the meadows. The ranch is most frequently referred to as Jackson's Ranch. Records indicate that in 1861 the property belonged Richard Roffold and that he was building "the finest three-storied building that you can find outside of towns".
Independence Intersection
This is an original segment of the road crossing Forest Service Road 07-10, one tenth of a mile north of the current intersection of the Independence Lake Road,  Road 07-10 and the current Henness Pass Road. It roughly parallels the new alignment of the Henness Pass Road. It is well graded, about 12 feet wide, with a slightly indented road bed which has rock alignments on either side, where rocks have been cleared to facilitate travel.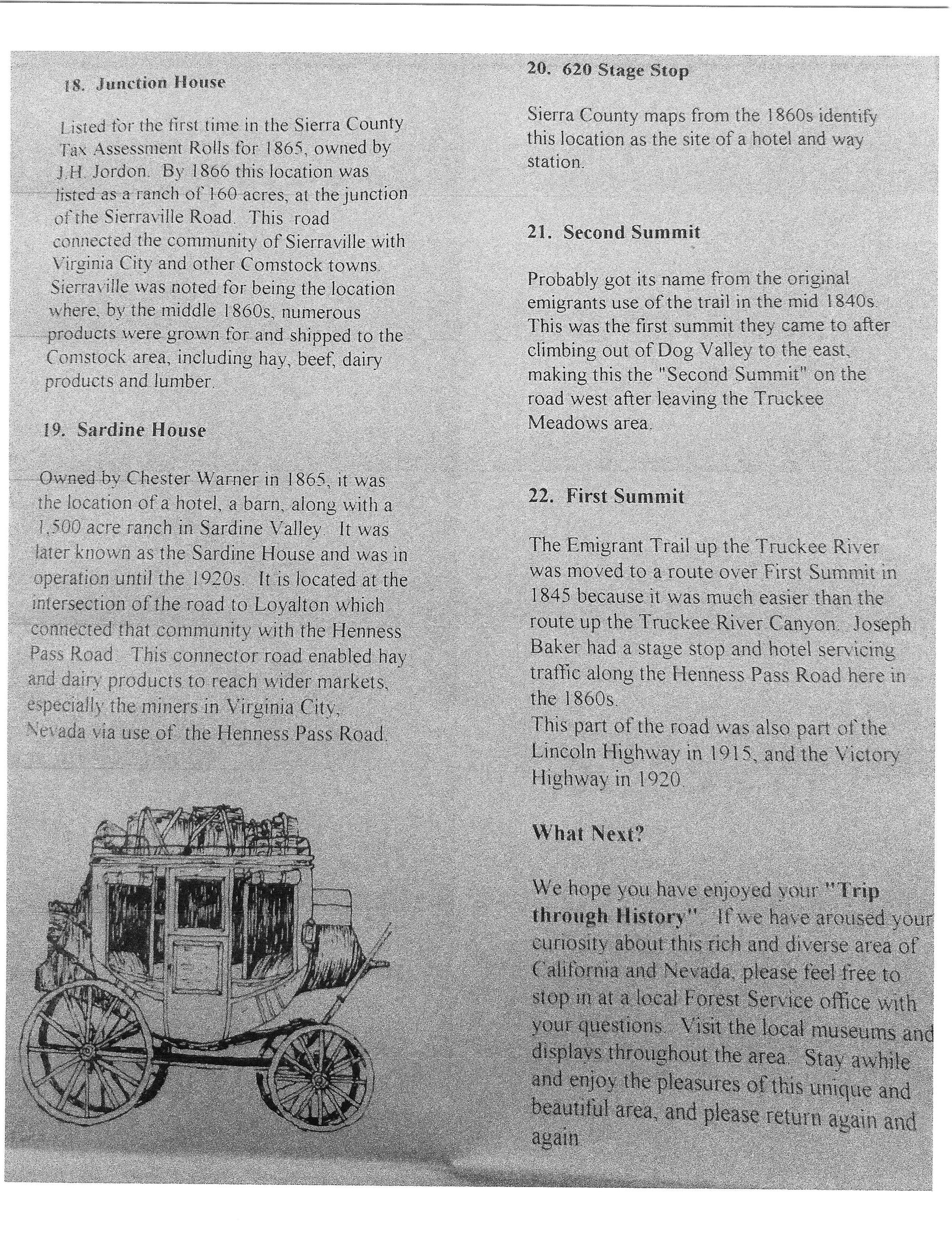 Junction House
Listed for the first time in the Sierra County Tax Assessment Rolls for 1865, owned by JH Jordon. By 1866, this location was listed as a ranch of 160 acres, a the junction of the Sierraville Road. This road connected the community of Sierraville with Virginia City and other Comstock towns. Sierraville was noted for being the location where, by the middle 1860s, numerous products were grown for and shipped to the Comstock area, including hay, beef, dairy products, and lumber.